Writen by Dani Peleva
I have been passionate about franchising for over a decade now. And this passion has led me on an unforgettable journey of working for a franchisor, being a franchisee, running a franchise marketing agency, writing my best-selling book Franchise Fame and so much more. So, why am I telling you all this? Because in this day and age I believe it is important to share valuable information. Working with Mail Boxes Etc. (MBE) master franchisees for around eight years now and around my work at the agency, I have developed the tried-and-tested Five Fs marketing model for franchisors and franchisees which, when implemented by my team, brings about incredible results. If you're hearing about this model for the first time, your timing couldn't be more perfect. This is because I'll share not only the theory behind the model but also some MBE success stories. Let's dive right in.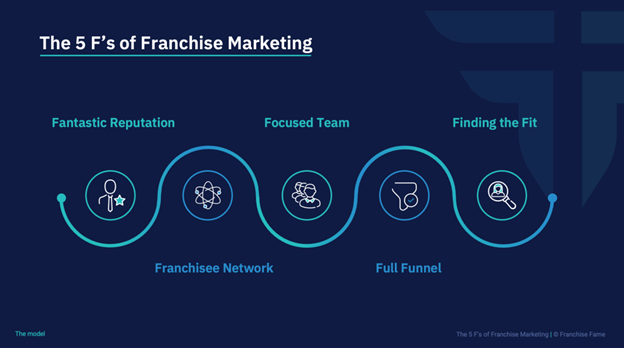 1. Fantastic reputation
We can all agree that a franchisor's reputation is one of the cornerstones of its success. And this reputation is a part of the overall brand. But what happens when online visibility can be further optimised in order to lead to improved leads and sales? To help MBE Australia, around eight years ago, we started with an audit of the Google My Business listings and stepped up to the plate. After implementing various strategies to boost MBE's reputation in Australia, I'll let the results speak for themselves:
The reputation rating rose from 3 to 4.5 stars;
There was a dramatic change in conversions: more phone calls, 68% increase in traffic to franchisees' local pages and better overall web reputation;
There were more franchise sales in the long run.
2. Focused team
Franchises by their very nature require effective teamwork. But when it comes to marketing and overall franchise operations, what is the result if you try to do everything on your own? You face stress and burnout, you don't create effective enough campaigns, you stretch yourself too thin and you end up juggling so many balls that can only lead to disaster in the long run. To counter this challenge, my agency's team joined efforts with the MBE worldwide team to support the master franchisees. This effort yielded great results. In some cases, small master franchisees didn't have a marketing manager or a team to take care of their marketing, so they outsourced it to us entirely. We helped not only with planning monthly and quarterly activities but with execution, too. In other cases, they simply outsourced a few marketing activities such as SEO, PPC ads and local marketing for their franchisees. This way, our services acted as the extended marketing arm of the franchisor, supporting them with the right team.
3. Franchise network
Investing and nurturing relationships with your franchisees is crucial for a franchise's success as this way, all parties benefit and the business thrives. When it comes to supporting franchisees on their journey, master franchisees need to dedicate themselves to ensure everything runs smoothly. One excellent example of this is that much like we did for MBE Australia, we also launched a local search marketing campaign for MBE Caribbean. This campaign involved the management of all Google My Business listings for the Dominican Republic. After a few months of meticulous work with Google support and local optimisation, we achieved impressive results. The centres could feel a surge in client calls and enquiries as well as footfall and traffic to their local pages on the website. On average, only 6 months of work led to 87% more phone calls received by the centres, 162% more driving direction requests and 142% increase in searches.
4. Full Funnel
Another crucial element of successful franchising is effective lead generation. Lead generation these days can take place through a variety of channels and these need to be utilised optimally for quality leads to filter through. In this case, we helped MBE Central America, more specifically Panama and Costa Rica, where we launched lead generation campaigns that were incredibly successful. In fact, we recorded a whopping 964% increase in the number of conversions. As part of our efforts, we also built the landing pages for franchise recruitment and even whole franchise recruitment standalone websites.
5. Finding the Fit
Because not every person is the ideal franchisee candidate, you need to find that perfect fit that aligns with your organisation. But to be able to get the prospects in the funnel and create a lead qualification process, you need the leads to drop into a CRM first. So, how did we do this in practice? We helped MBE master licensees with building the recruitment websites and integrating MBE's own CRM platform. The leads can consequently drop into the CRM. The agency also built automated email marketing campaigns for the franchise prospects to receive once they dropped into the custom-built CRM. We also made sure to keep them warm until someone contacts them for an introductory meeting.
In closing
The Five Fs franchising model has been tried and tested with master licensees around the globe on numerous occasions and it has yielded amazing results each and every time. Ensuring that you follow, apply and implement these Five Fs in a cohesive and holistic manner will lead to franchise fame and success for all parties in the franchise ecosystem.